Why We're Unique… And Why You'll Love Us
"Move over car dealers, the friendly mechanics are in town!"
At Urban Automotive, we believe you should get your coffee on your own terms, not while waiting for car repairs. That's why we offer a complimentary shuttle service to take you home or to work while we work on your vehicle​.
We're the top-rated auto repair shop in Oakville, and for good reason. We're family-owned, community-focused, and we treat you like you're part of the fam. We don't just fix cars; we build relationships.
---
---
---
At Urban Automotive, we're not just another auto service in Oakville. We're your friendly neighborhood mechanics who make car repair less daunting and more personal. We understand that the residents and business owners of Oakville, including small truck operators and electric vehicle owners, deserve top-quality service without the hefty price tag of dealer service departments.
We are proud to be the top-rated shop on Google. We bring you not just the highest standards in auto service, but also a dash of humor and friendliness that sets us apart. Check out our popular YouTube channel where we share tips, tricks, and a behind-the-scenes look at our work. When you search for "car repair near me," remember that Urban Automotive is just around the corner, ready to serve you with integrity and enthusiasm.
Why Choose Urban Automotive?
Do the right thing: We are proudly local, with our family name displayed on the building. We make decisions that build strong, trusting relationships, always striving to do the right thing for you and your vehicle.
Bring it every day: We approach each task with energy, focus, and purpose. We understand that your time is precious, so we strive to maximize our contribution by using our time effectively.
Check the ego at the door: We're all about doing what's best for you and your vehicle. Our decisions are based solely on what will best serve your interests.
For more reasons to choose Urban Automotive, check out our core values. At Urban Automotive, we're dedicated to providing an extraordinary service, doing it "the Disney way."
Our Mission
We are committed to your satisfaction, providing personalized service that always puts safety first. We are committed to building personal relationships with our customers so you feel like a friend rather than a processed number. We do so through honesty and integrity with every service that we offer.
Welcome to the Urban Automotive family. It's time to experience car repair the Urban way!
Everything The Dealership Can Do. And More!
Fed up with dealer prices for regular maintenance? You're in luck! We've been known to charge much less for the same service.
From imports to luxury to domestic vehicles, we handle them all with genuine parts and warranty-approved maintenance. And remember, we don't cut corners – your safety is our promise.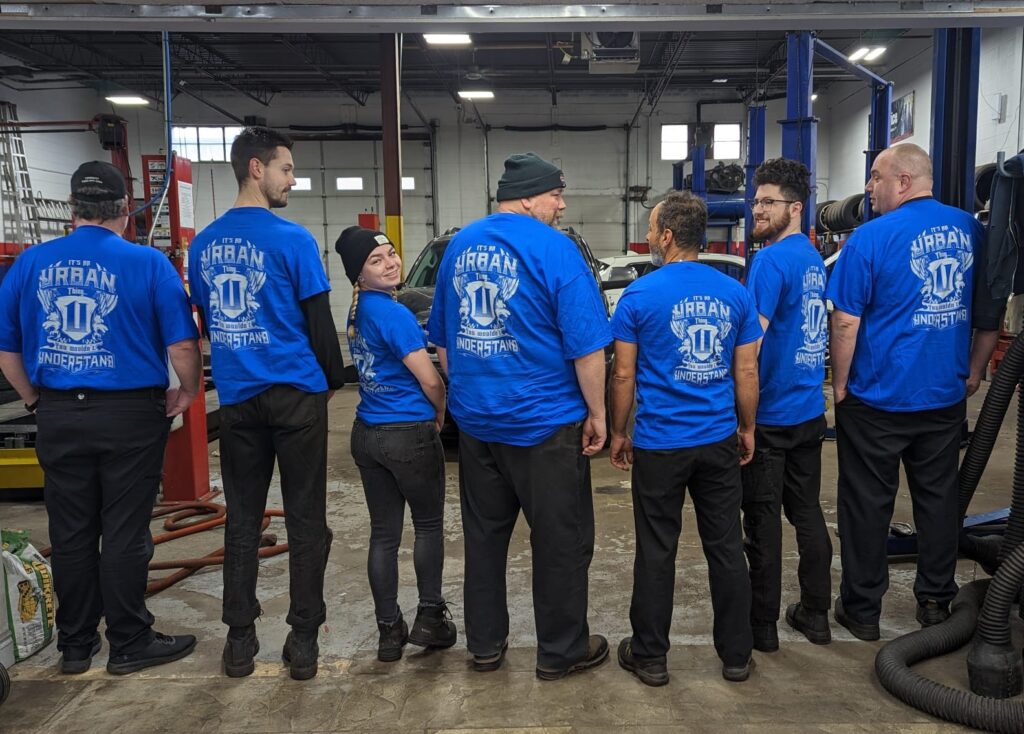 ---
Call Us
"We're local. Like, 'Could be fixing your car in your garage' local."
Urban Automotive isn't just any auto repair shop in Oakville. We're as local as it gets, supporting local organizations like Kerr St. Mission. When you choose us, you're choosing to support your community.
Call us at 905-845-3531
---
Schedule an Appointment
"Why wait? Your car isn't going to fix itself!"
Ready to experience the Urban Automotive difference? Call us at 905-845-3531 or click below to book an appointment with our Oakville shop.